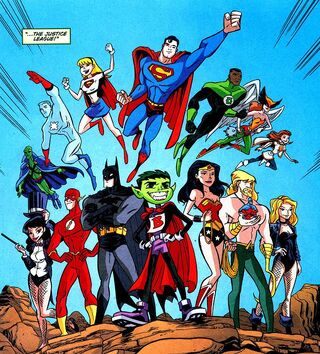 A cross-over that involves the Justice League, the Teen Titans, and the X-Men in several situations.
Reason for Writing
Edit
This came from an idea by Dennis Fielder and Miracleboy5200 to bring the DC and Marvel worlds together.
Connection
Edit
This takes place in Season 2 of Justice League, Dennis Fielder's Teen Titans Season 6 and X-Men Evolution Season 5 onwards.
Justice Evolution: http://www.fanfiction.net/s/6400072/1/Justice_Evolution
Ad blocker interference detected!
Wikia is a free-to-use site that makes money from advertising. We have a modified experience for viewers using ad blockers

Wikia is not accessible if you've made further modifications. Remove the custom ad blocker rule(s) and the page will load as expected.